Jasco FP-4020/4025 Control
Control module for Jasco FP-4020/4025 detectors.
The Jasco FP-4020/4025 control module allows for direct control of the Jasco FP-4020 and FP-4025 fluorescence detectors. The control is performed via a standard PC serial port using a specified serial cable.
The control module allows the digital acquisition from one or two detector signals and allows to calculate signal ratio if used in the dual mode. The digital input supports starting of the detector over TTL, but detector synchronization can be also achieved over a digital line. The user can easily create the detector control method from the Method Setup - Acquisition dialog, set the operation mode, or create timed events in the Time Table. All of these parameters are then saved as a part of the method and can be added as a part of the report. Actual signals of each detector cell can be monitored from the Device Monitor window.
For proper operation is required:
Minimal firmware version 1.02.00
Optional RS-232 interface (Jasco Product Item: 6890-H445A, RS232C 9P CABLE WITH ADAPTER)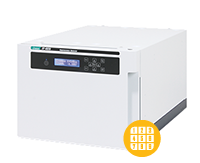 ---
Specification
| | |
| --- | --- |
| | Jasco FP-4020/4025 Control |
| Communication interface | RS232 |
| Purchasing | LC Control - (p/n A24) |
| Related products | Clarity (p/n C50) |
| Cable | cross DB9F-DB9F (p/n SK01) |