Control module for the Gilson Pumps 302-307
The Gilson 30x Control module allows for direct control of the Gilson Pumps 302-307. The high pressure gradient is created from up to four individual gradient components where each component is delivered by individual pump. The user can easily create a gradient method from the LC Control window, set a percentage of each gradient component and an overall flow rate in the gradient table. All parameters including parameters controlling pump behavior in the Idle state are a part of the method. Therefore it is possible to create various gradient profiles and choose - only by loading - the corresponding method. Actual flow rates of each gradient component and their overall sum and pressure can be monitored in the independent LC Monitor. Control is realized via a standard PC serial port using a cable supplied with the Gilson pump.
The special GSIOC converter is required.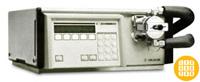 ---
Specification
Gilson 30x Control
Controlled instruments
Gilson 302, 303, 305, 306, 307
Communication interface
GSIOC
Purchasing
LC Control (p/n A24)
Related products
Clarity (p/n C50)
GSIOC Adapter (p/n IGLN2)
Cable
GSIOC Converter (p/n IGLN1)