YL Instruments HPLC YL9100
Control module for the HPLC system YL9100
The YL Instruments YL9100 HPLC Control module allows for direct control of the HPLC system over LAN interface, particular components use different communication interfaces (USB for FLD detector, RS232 for ELSD detector, RI detector and autosampler). The system may include pumps, detectors, column compartment (LC Control license) and autosampler (requires AS Control license). The number of PDA detectors is limited, there can be only one per station.

All parameters including parameters controlling pump behavior in the Idle state, acquisition conditions or temperature program are a part of the method. Therefore it is possible to create various acquisition methods and choose between them only by loading the corresponding method. Actual flow rates of each gradient component and their overall sum and pressure can be monitored by the independent Device Monitor.
This module was, except the ELSD detector, developed by the Young In Chromass company.
FLD detector is only available in YL-Clarity OEM version and supported on Windows 10 64-bit OS.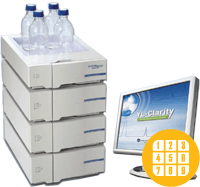 ---
Specification
YL Instruments YL9100 HPLC Control
Communication interface
LAN, RS232
Purchasing
LC Control (p/n A24)
AS Control (p/n A26) - optional
PDA Extension (p/n A29) - optional
Related products
Clarity (p/n C50)
Connection
Cross LAN (p/n SK08)
Serial straight DB9F-DB9M (p/n SK02) - for YL9170 and YL9180 modules
| | |
| --- | --- |
| | List of controlled subdevices of the YL Instruments YL9100 HPLC system: |
| Detectors | YL9120, YL9140 (OS limited to Win10 64-bit), YL9160, YL9170, YL9180, YL9181 |
| Pumps | YL9110, YL9111, YL9112 |
| Autosamplers | YL9150, YL9151 (only with firmware 0840.100) |
| Column Ovens | YL9130 |