SymbiosisTM sample preparation components includes SPARK HPDTM (High Pressure Dispenser), SPARK ACETM (Automatic Cartridge Exchanger), SPARK UHPLC SPH1240TM (HPG pumpset),  SPARK MistralTM  (column oven) and SPARK AliasTM  (autosampler) instruments.  The SymbiosisTM is SPARK's unique solution for fast integrated online SPE-LC-MS automation (XLC-MS).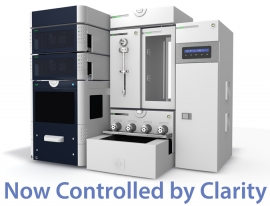 SymbiosisTM Technology components can be completely controlled from the Clarity environment - all method parameters can be sent to the system directly from the computer, the sequence table can be planned and edited in the Clarity software and the order of the individual cartridges is directed by Clarity.
SymbiosisTM Technology components further extended a portfolio of Clarity control drivers. Almost whole portfolio of SPARK's instrumentation can be controlled from Clarity Chromatography SW.
"We are always happy to support the activities of DataApex. They are an independent company allowing a large group of instruments to be connected with each other. With the work on the control of the SymbiosisTM Technology Components we see this innovative Sample Prep platform being combined with the many measurement instruments within (and outside) the control of Clarity" commented Rob van der Knaap, SPARK's president.