PerkinElmer NexION Control
Control Module for PerkinElmer NexION ICP-MS detector and in wider sense for the NexSAR HPLC system. This driver can control PerkinElmer NexION 300, 350, 1000, 2000 and 5000 detectors.
Clarity can communicate with the detector through Syngistix software installed on the same PC. Users can easily create the detector control method from the Method Setup - Acquisition tab. All of the detector method parameters are then saved and can be added as a part of the report. The actual signal of the detector can be monitored and partly controlled from the Device Monitor window.
Aside from the NexION detector, Clarity also allows control of the whole NexSAR system, consisting of NexSAR autosampler, pump, column oven, and switching valve. On the other hand, it is possible to use any other HPLC system along with the NexION detector, for example PerkinElmer Flexar, or a system from other vendors.
The control module was developed by PerkinElmer company, any further information, including the control module manual, may be obtained from PerkinElmer company.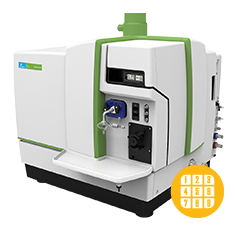 ---
Specification
PerkinElmer NexSAR system control
Controlled instruments
PerkinElmer NexION 300, 350, 1000, 2000, 5000
PerkinElmer NexSAR Inert HPLC Autosampler, NexSAR pump, NexSAR Column Oven, NexSAR Switching valve
Communication interface
LAN for NexION (through Syngistix software)
RS232 for other NexSAR system components
Purchasing
LC Control - (p/n A24)
AS Control (p/n A26) - only in case NexSAR Inert HPLC Autosampler is present
Related products
Clarity (p/n C50)
Connection
cross LAN (p/n SK08) for NexION
DB9F-DB9M (p/n SK02) for NexSAR Inert HPLC Autosampler, NexSAR Column Oven
DB9F-RJ11 (SK05) for NexSAR pump
special cable to 3-pin connector (p/n SK17) for NexSAR Switching valve